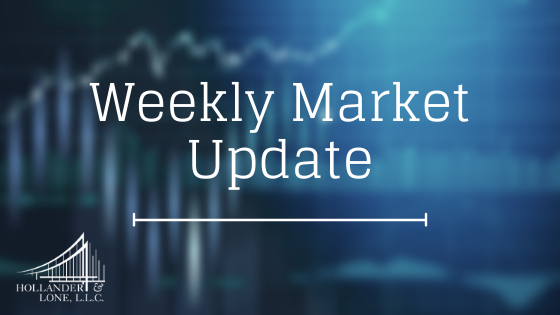 Despite the gradual reopening of the economy in several states, sentiment on Main Street remains suppressed, as the effects of COVID-19 appear to be keeping a lid on American optimism in the most recent Federal Reserve (Fed) Beige Book.
In the Beige Book, the Fed presents qualitative observations made by community bankers and business owners—or "Main Street"—about economic (housing, labor market, manufacturing, nonresidential construction, prices, tourism, wages) and banking conditions (lending conditions, loan demand, loan quality). At LPL Research, we maintain an indicator called the Beige Book Barometer (BBB) to gauge Main Street's sentiment by looking at how frequently key words and phrases appear in the text.
As shown in the LPL Chart of the Day, the Beige Book Barometer dipped into negative territory for the first time since 2011, after falling 26 points since the April update. Strong words fell by 10—though most readings were in reference to strong demand for groceries and other "stay-at-home" themed purchases—while weak words rose by 16 points.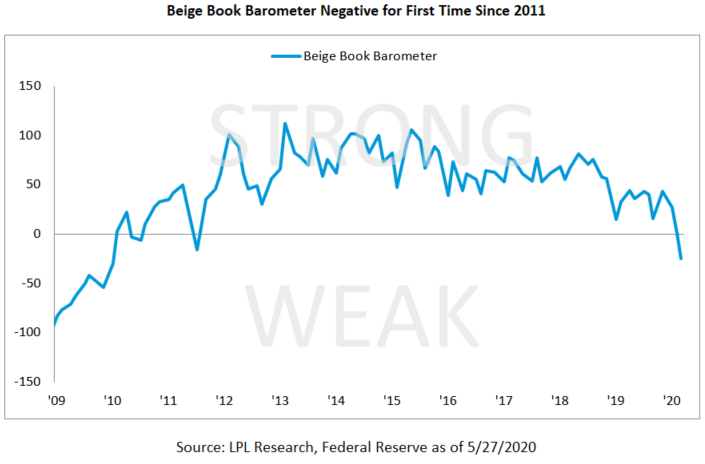 Perhaps to the surprise of no one, a primary concern for business contacts in the report was the potential pace of the economic recovery following a period of record claims for unemployment insurance. However, as devastating as the job losses in April were, the Fed noted that securing Payroll Protection Program (PPP) loans—a key provision of the CARES Act—helped many businesses limit or avoid layoffs.
Now that lockdown restrictions are beginning to ease across most of the country, consumer and business behavior will be closely monitored for clues to the pace of the recovery. Health concerns, limited access to childcare and generous unemployment insurance benefits may provide headwinds for workers returning to the workforce.
IMPORTANT DISCLOSURES
This material is for general information only and is not intended to provide specific advice or recommendations for any individual. There is no assurance that the views or strategies discussed are suitable for all investors or will yield positive outcomes. Investing involves risks including possible loss of principal. Any economic forecasts set forth may not develop as predicted and are subject to change.
References to markets, asset classes, and sectors are generally regarding the corresponding market index. Indexes are unmanaged statistical composites and cannot be invested into directly. Index performance is not indicative of the performance of any investment and do not reflect fees, expenses, or sales charges. All performance referenced is historical and is no guarantee of future results.
Any company names noted herein are for educational purposes only and not an indication of trading intent or a solicitation of their products or services. LPL Financial doesn't provide research on individual equities. All information is believed to be from reliable sources; however, LPL Financial makes no representation as to its completeness or accuracy.
The Beige Book is a commonly used name for the Fed report called the Summary of Commentary on Current Economic Conditions by Federal Reserve District. It is published just before the Federal Open Market Committee meeting on interest rates and is used to inform the members on changes in the economy since the last meeting.
This Research material was prepared by LPL Financial, LLC.
Securities and advisory services offered through LPL Financial (LPL), a registered investment advisor and broker-dealer (member FINRA/SIPC).
Insurance products are offered through LPL or its licensed affiliates. To the extent you are receiving investment advice from a separately registered independent investment advisor that is not an LPL affiliate, please note LPL makes no representation with respect to such entity.
Not Insured by FDIC/NCUA or Any Other Government Agency
Not Bank/Credit Union Guaranteed
Not Bank/Credit Union Deposits or Obligations
May Lose Value
For Public Use – Tracking 1-05015998