Schedule a Financial Consultation
Whether you are actively working at your medical group or looking forward to a very near retirement, thoughts of financial security are an ongoing weight. Managing wealth, debts, tax burdens, and financial risks of the present and future are critical tasks for all medical professionals and medical groups, but our clients in the medical field feel relief when their complex financial needs are handled by the active account management of Hollander Lone Maxbauer, premier financial services firm in Southfield, MI.
We Understand the Financial Needs of Medical Professionals
Doctors and all medical professionals spend their careers caring for others. Prioritizing the financial picture for yourself and your family can sometimes get pushed to the side when work demands your time, energy, and attention. When you have a financial planning firm to rely on, all you need to do is explain your hopes, concerns, and obligations to the experts and let them manage the rest.
At Hollander Lone Maxbauer, we offer the following services and more:
Transitions from residency to retirement and beyond: Multiple benefits can carry over from one employer to the next. Get assistance in determining what to keep, shelve, and unload.
Manage tax burdens: Your financial advisor can advise you on where and how to contribute to reduce your tax burden.
Loss prevention and asset protection strategies: Preserve profits and protect your medical group with these strategies.
Risk management and insurance: When you care for others, it's essential to minimize your risk of unwanted circumstances through risk management and insurance.
Coordination of benefits: If you maintain multiple insurance plans, financial advisors help coordinate your benefits.
Savings goals: Work toward multiple savings goals concurrently, whether for kids, college, cars, homes, renovations, or otherwise.
Debt management: Manage medical school loans and other debt effectively while still living a comfortable lifestyle.
Medical, group, disability, and life: Settle on the personal insurance that is best for your family in the amounts that make you feel safe.
Qualified group retirement plan: We support the custom-design, creation, and implementation of new qualified group retirement plans.
Reviews of existing plans: We offer due diligence reviews of existing plans for DOL and ERISA requirements.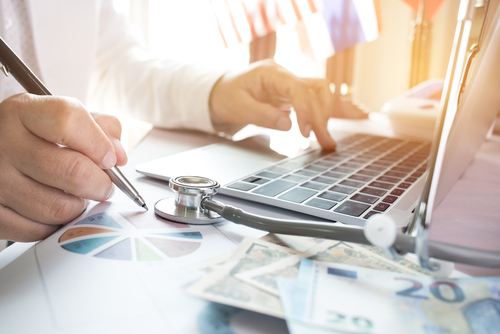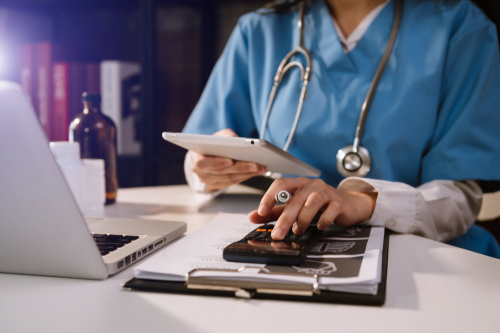 Grow Your Portfolio in Multiple Ways
Our active account management of your wealth involves much more than just what will happen when you're ready to hang up the white coat or scrubs. You will feel better speaking with a financial professional who understands your unique investment needs.
Pursue your goals: Want to purchase a vacation home? Get the kids through college loan-free? Buy that SUV? It can happen while you're working hard so you can enjoy the fruits of your labor while you're still laboring. Careful portfolio management and decision-making are keys to success for determined medical professionals.
Save, save, save: If you're not a big consumer, you'll feel great about saving your nickels and dimes to put toward the future you envision for yourself and your family. Get the advice you need to place your funds in the safest, smartest places with the biggest return on your investments.
Envision the future: When you retire, you might want to downsize and move. You might want to travel often. You may want to build a new house and put your feet up for the duration. Wherever you see yourself, whatever you see yourself doing, dreaming about it should be enough to make it happen if you have someone who's handled your money wisely.
Financial Planning for Medical Professionals and Medical Groups
Hollander Lone Maxbauer is a team of select advisors and specialists. We grow your portfolio and manage your retirement money – now and for the years and decades to come. We are honored to help medical professionals and medical groups coordinate their most complex financial needs. Contact us to schedule a consultation.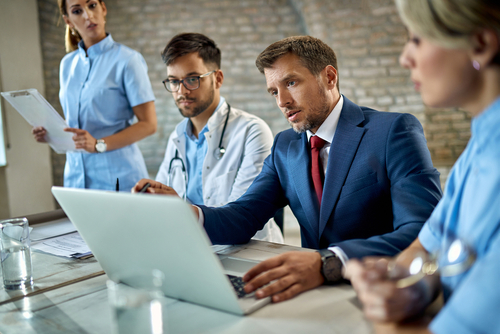 The Hollander Lone Maxbauer Article Center

Most portfolios are constructed based on an individual's investment objective, risk tolerance, and time horizon. Using these inputs and sophisticated portfolio-optimization calculations, most investors can …
Read more
Our Process
Discover
We want to know you! What makes you tick? Your goals and dreams, career and financial history, cash-flow, tax considerations, and family & estate planning. We also want to know about your relationship with money and what you really value in life. What motivates and interests you and what your vision of financial freedom is.
Recommend
We build a comprehensive summary and a plan of action. Considering many "what-if" scenarios and potential outcomes, we determine together an appropriate blueprint and strategies for addressing your ongoing objectives.
Implement
Execution is continuous, but in the first 90 days we'll build the financial foundation. We'll load and customize your personal financial dashboard, begin coordinating assets and liabilities from all sources, consider wealth protection and tax strategies, and construct your portfolio to give you a total snapshot of your finances in real time – accessible 24/7.
Support
We pride ourselves on the level of service and support we deliver our clients. We're accessible and prompt to reply. We adhere to quarterly reviews, evaluate progress, prepare for upcoming changes, and help you stay on track. We take a genuine and high-touch approach to customer service. If we can do it for you, it's our pleasure.
Retirement Matters: Investment Strategies for Retirement