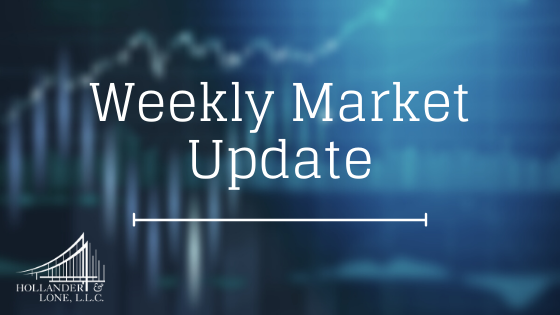 Monday's big down day was a harsh reminder of how markets actually can produce volatility. It was the worst day of the year for the Dow and only the second drop of 1% or more for the S&P 500 Index in just over two months.
As we noted recently in Three Things That Worry Us, there are many reasons to think that after more than a 90% rally (and virtually a double on a total return basis), the S&P 500 could finally be ready for a break. From less stocks participating, to weak seasonality, to a lack of bears, to typical choppiness during year two of a bull market, the summer months could be ripe for an eventual pullback (down 5-9%) or even a 10% correction.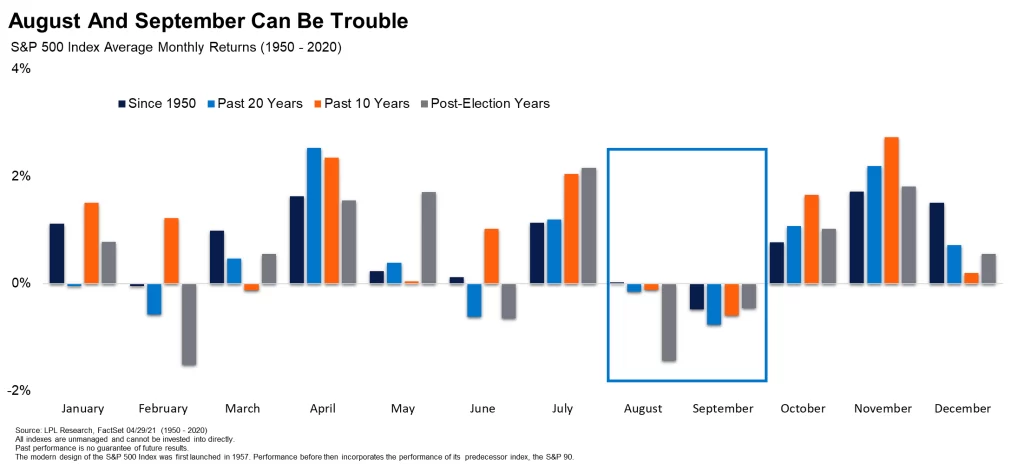 "The truth is investors have been very spoiled by the recent stock market performance," explained LPL Financial Chief Market Strategist Ryan Detrick. "Incredibly, we haven't seen as much as a 5% pullback since October. Although we firmly think this bull market is alive and well, let's not fool ourselves into thinking trees grow forever. Risk is no doubt increasing as we head into the troublesome August and September months."
As shown in the LPL Chart of the Day, the average year sees three separate 5% or more pullbacks for the S&P 500 with not a single one happening yet in 2021. This doesn't mean a 5% correction is directly around the corner, but note that most stocks are actually already down as much as 10% off their recent highs, suggesting the internals of the market are a tad weak and risk is higher than normal.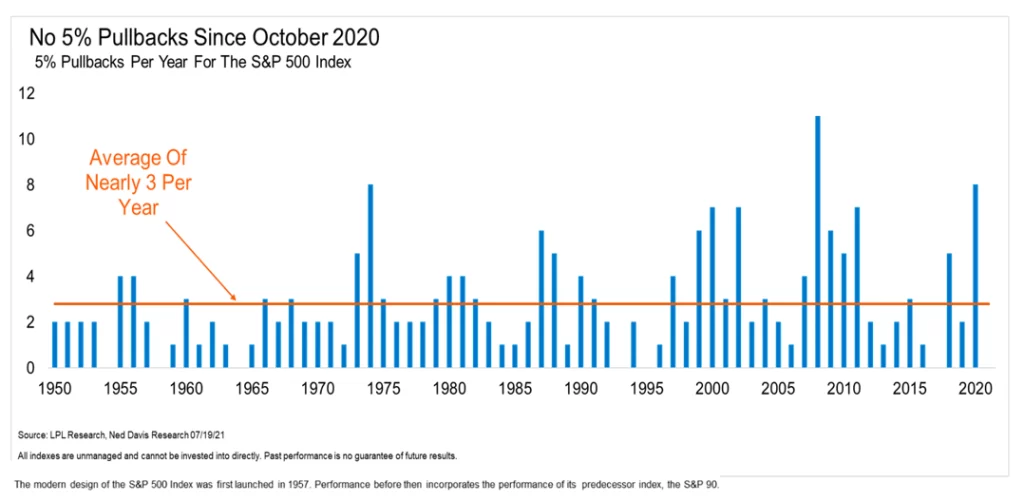 Looking at 10% corrections, the S&P 500 has averaged exactly one a year since 1950. Of course, with the historic volatility last year we saw four separate 10% corrections, though there hasn't been a 10% correction since March 2020. Again, this could be getting long in the tooth after the 90% plus rally from the lows.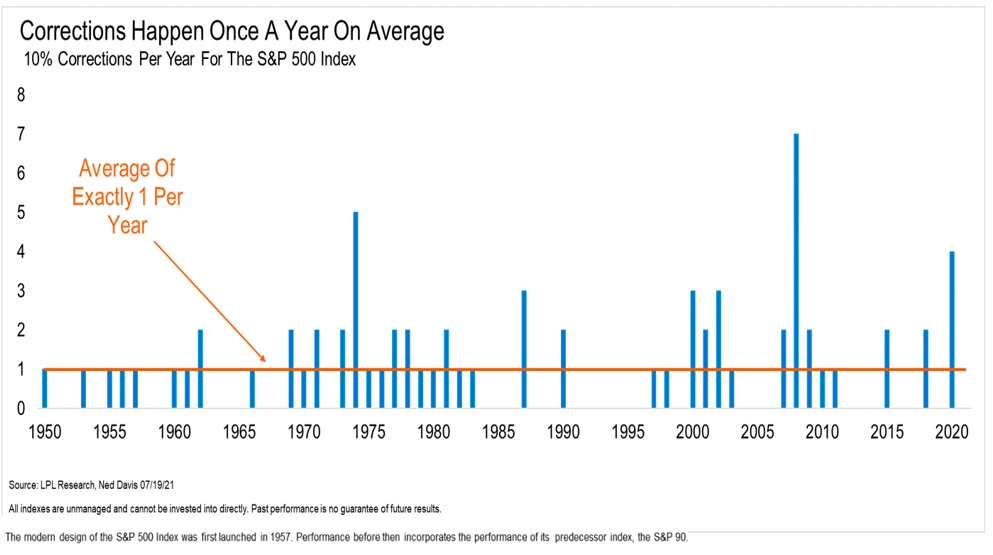 Overall, worries over inflation, yields, the Delta COVID-19 variant, peaking economic data, or something else will get the headlines for any market weakness. We know that year two of bull markets can be choppy and frustrating, but the truth is earnings remain extremely strong, justifying stocks at current levels. It is just that sometimes stocks need to catch their breath, and we wouldn't be surprised at all if that happened over the coming months.
IMPORTANT DISCLOSURES
This material is for general information only and is not intended to provide specific advice or recommendations for any individual. There is no assurance that the views or strategies discussed are suitable for all investors or will yield positive outcomes. Investing involves risks including possible loss of principal. Any economic forecasts set forth may not develop as predicted and are subject to change.
References to markets, asset classes, and sectors are generally regarding the corresponding market index. Indexes are unmanaged statistical composites and cannot be invested into directly. Index performance is not indicative of the performance of any investment and do not reflect fees, expenses, or sales charges. All performance referenced is historical and is no guarantee of future results.
Any company names noted herein are for educational purposes only and not an indication of trading intent or a solicitation of their products or services. LPL Financial doesn't provide research on individual equities. All information is believed to be from reliable sources; however, LPL Financial makes no representation as to its completeness or accuracy.
All index and market data from FactSet and MarketWatch.
This Research material was prepared by LPL Financial, LLC.
Securities and advisory services offered through LPL Financial (LPL), a registered investment advisor and broker-dealer (member FINRA/SIPC).
Insurance products are offered through LPL or its licensed affiliates. To the extent you are receiving investment advice from a separately registered independent investment advisor that is not an LPL affiliate, please note LPL makes no representation with respect to such entity.
Not Insured by FDIC/NCUA or Any Other Government Agency
Not Bank/Credit Union Guaranteed
Not Bank/Credit Union Deposits or Obligations
May Lose Value
For Public Use – Tracking # 1-05170357