There are multiple reasons physicians consider going into private practice. Everyone has their own story of why, but when making a life-altering decision you must think of all the aspects of the business. The first step is to decide what type of medical practice you want to operate. The responsibility of the practice differentiates depending on the type of practice you specialize in. A solo medical practice means that you are responsible for the medical and administrative sides of the business. Everything is on the line if your business runs into trouble, you are in full control. You could also take the approach of having a group practice model where you have the team take percentage ownership of the business. This route may make securing funding easier, but you lose more control than having a private practice. Here are five steps to consider when starting a private practice.
Step 1: Business Plan
Like any business, you need to have the right plan to have a successful private medical practice. Here are a few of the most common practice business models to help you start thinking about your options:
Budget
Your staff and payroll are things you need to consider when creating a budget. To come up with those numbers you need to calculate the planned staff of your practice and the right amount of pay. You should make sure the income is competitive enough to make sure you have a low turnover rate.
If you are currently working in a hospital, you could target a couple of co-workers that are willing to leave their current position to start with you. You need to make sure you are clear in your goals and their goals to ensure that you have a reliable team to start your practice.
Some physicians get burned out dealing with insurance payers and complying with ever-shifting government healthcare regulations (HITECH, HIPAA) to meet reimbursement requirements. You could simply hire someone for that role to be the overseer of these regulations.
Some decisions need to be made in the beginning regarding how much you are willing to invest in your private practice. If you decide to do a partnership the question is how much ownership or voting rights of the practice are you willing to give up? Each of these options has its benefits and drawbacks. Once you make your decision on the ownership of the practice, you should consult an attorney to draft documents to ensure your and your partner's wishes are met.
Legality
Legality is another tool that you need when creating your business plan. When deciding to have some outside buyers invest and have ownership in your practice you need to know the specifics of state laws when it comes to ownership. Several states allow non-physicians to own a portion of a professional corporation that practices medicine but limit this to a minority (49%) interest or other non-controlling interest. Other exceptions exist as well. Some states impose less strict or even no restrictions on non-profit corporations' practice of medicine. For example, Texas has a general prohibition on the corporate practice of medicine but has a specific exception for non-profit corporations.
Until recent changes, Michigan generally required that only physicians and podiatrists could be owners or shareholders in such a professional corporation. Now, Michigan has expanded its ownership restrictions by allowing chiropractors to form professional corporations with physicians and podiatrists. Make sure you have the right support system when creating these contracts.
Step 2: Prepare for Adversity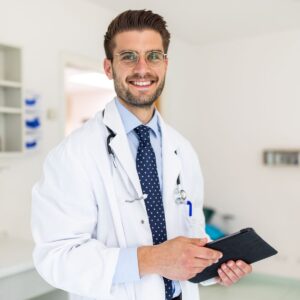 When creating a private practice, it's not going to be perfect. Knowing this fact, you might stumble out of the gate or have certain initiatives not work. You could have an unforeseen problem, it's essential to be able to adjust the plan accordingly.
Emergency fund:
A business emergency fund is a stockpile of money you have saved in a money market account—for emergencies, rainy days, or if you want to seek out new opportunities for your business. Just like a personal emergency fund, your business emergency fund will give you the confidence you need when the unexpected happens and you find yourself in a financial hole. And we're not just talking about a global pandemic. We're talking about if you get sick, have a prominent employee take leave, get dealt a lawsuit, or if your slow season is longer than you expected. It's necessary to have cash tucked away that will keep the doors open for a few months while you do what it takes to bring in more business and more profits.
Step 3: Location
Location is key to all business. The location matters for your patients. The distance from their home to your location is essential when considering the right setting for your practice.
As business owners, you won't be able to please everyone, but considering the interests of all parties will help you make a more informed decision. Having an office in an area your target population frequents can be beneficial for converting inquiries to clients. Also, consider an area that isn't too far from a major road or intersection. Some elements of the location might be out of your control but try to make sure your practice is in an affordable location that can thrive. The price of an office space or building is a major factor in what office you choose. Spending extra to have a high-quality office was more beneficial for a business than trying to cut corners and save money.
Step 4: Finance
Obtaining a business loan can be one of the biggest challenges when starting your practice. It's difficult to obtain a business loan if you never had one. Banks are more resistant to giving someone their first business loan. Financing your practice is a broader look at your entire financial picture over time. It can show you how and where you'll need to save money to reach your goals and can help you stay on track if something unexpected happens.
You should set financial goals for the short term and long term. This shows the pathway to success and makes sure that you're on the right path financially. In the short term, you need to think of the profit that you will earn. Once you determine that this profit will be enough for your practice, you can go to the next phase of your plan and think of the long term.
Step 5: Marketing and Promoting Your Services
The final step to setting up a successful practice is promoting your services and gaining visibility in the market.
Network with colleagues
Once all the logistics are handled, it's time to start promoting your medical practice to attract patients. One of the best things you can do is network with colleagues about your practice. These colleagues do not have to join your practice, but getting your name out there in the medical world can help attract patients.
You should also think of joining a medical association or signing up for a physician-only social network. You'll be able to meet specialists in your area who can refer their existing patients to your medical practice. You can also get valuable advice from peers about how they promote their practice.
Build an online presence
When marketing your medical practice, it's important to establish an online presence as soon as possible. Perhaps hiring a marketing social media consultant can help this process. That employee would create social media pages on multiple platforms. It's essential for you to have a footprint on that side of the business.
Closing:
There are positives and negatives to having your practice. Physicians leave their practice for many reasons. Some might leave to spend more time with their family or work in a better location. Medical patients would have significantly more trust in their physician than other physicians they might not know. Those doctors already have respect and have a great rapport with their patients. If the transferring physician can bring over their patients, this would be great for your growing practice. There are some challenges that you need to overcome if you decide to take that leap of faith. But making the right business plan and following these steps can help you succeed.
Get the financial advice and support you need for your enterprise from Hollander Lone Maxbauer in Southfield, MI. Contact us to schedule a consultation.