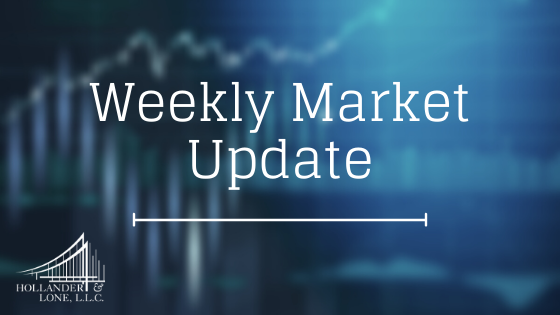 The economic recovery is gaining steam. In fact, so much so that the Organisation for Economic Co-operation and Development (OECD) had to raise their U.S. gross domestic product (GDP) forecast for 2021 by more than 3 percentage points this week (from 3.2% to 6.5%). That's a big change from December 2020, even if it does reflect another massive fiscal stimulus package that President Joe Biden will likely sign into law tomorrow.
But as you can see in our LPL Chart of the Day, the improving economic picture is not just a domestic story. "Global growth expectations for this year and next have risen substantially," according to LPL Financial Equity Strategist Jeffrey Buchbinder. "If the global economy can grow near 6% in 2021, led by the United States and Asia, it should create a favorable environment for stocks globally."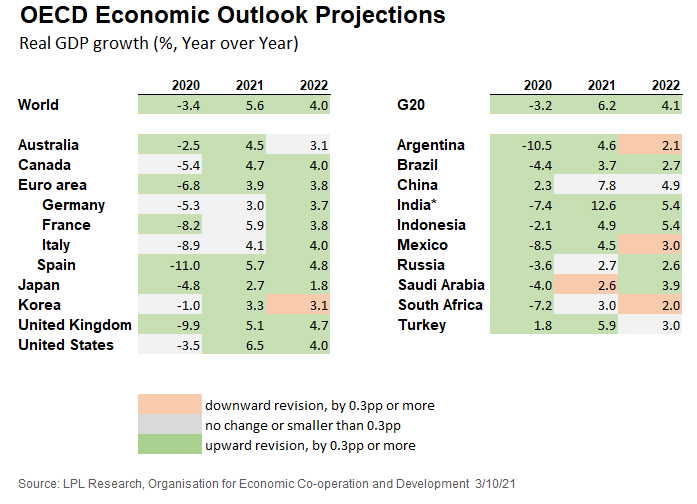 Among the world's largest economies, the OECD raised its economic growth forecast for the United States by the most. But India's economy—the world's fifth biggest—actually saw the biggest upgrade of 4.7 percentage points. Australia, Canada, and Brazil also saw solid increases of one percentage point or more. On the other side of the coin, France and Italy saw slight downgrades. The OECD only sees 3.9% GDP growth in the Euro area in 2021, well shy of the forecasts for the U.S., Australia, Canada, the United Kingdom, and much of the emerging world. Europe has been slower to open up its economies as its COVID-19 vaccine program has lagged well behind that in the U.S., which we think makes it a less attractive investment destination than the U.S., Japan, or broad emerging markets right now.
We continue to recommend investors focus their regional allocations on the United States and emerging markets. More risk tolerant investors may also want to consider a tactical allocation to Japan, where appropriate, given the country's relative success containing COVID-19 and massive amount of stimulus unleashed to support its economy during the pandemic.
IMPORTANT DISCLOSURES
This material is for general information only and is not intended to provide specific advice or recommendations for any individual. There is no assurance that the views or strategies discussed are suitable for all investors or will yield positive outcomes. Investing involves risks including possible loss of principal. Any economic forecasts set forth may not develop as predicted and are subject to change.
References to markets, asset classes, and sectors are generally regarding the corresponding market index. Indexes are unmanaged statistical composites and cannot be invested into directly. Index performance is not indicative of the performance of any investment and do not reflect fees, expenses, or sales charges. All performance referenced is historical and is no guarantee of future results.
Any company names noted herein are for educational purposes only and not an indication of trading intent or a solicitation of their products or services. LPL Financial doesn't provide research on individual equities. All information is believed to be from reliable sources; however, LPL Financial makes no representation as to its completeness or accuracy.
All index and market data from FactSet and MarketWatch.
This Research material was prepared by LPL Financial, LLC.
Securities and advisory services offered through LPL Financial (LPL), a registered investment advisor and broker-dealer (member FINRA/SIPC).
Insurance products are offered through LPL or its licensed affiliates. To the extent you are receiving investment advice from a separately registered independent investment advisor that is not an LPL affiliate, please note LPL makes no representation with respect to such entity.
Not Insured by FDIC/NCUA or Any Other Government Agency
Not Bank/Credit Union Guaranteed
Not Bank/Credit Union Deposits or Obligations
May Lose Value
For Public Use – Tracking 1-05121031